We also specialize in professional and comprehensive repair and regeneration of manual gearboxes for all car brands. The repair of a manual gearbox in our service is performed with due care and precision, and using modern equipment, we can detect all defects. The experience of our mechanics, who have been regenerating and repairing manual gearboxes for years, enables us to detect any irregularities that may affect the poor functioning of the gearbox.
Repair of manual gearboxes requires extensive knowledge and specialized equipment, which most car services do not have due to the high costs of purchase and subsequent maintenance. Therefore, we cooperate with car workshops, authorized service centers from southern Poland, especially from Kraków, Rzeszów, Tarnów, Nowy Sącz, or Krosno, which send us damaged manual gearboxes. It is important that the repair of manual gearboxes is carried out in a service specially prepared for this purpose.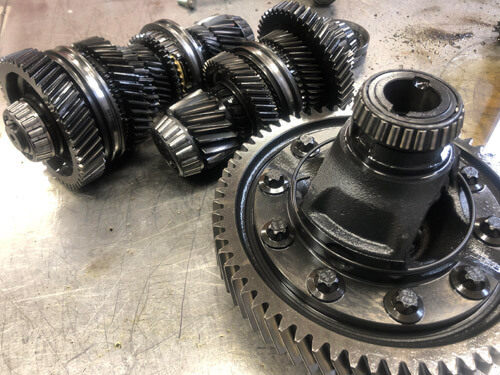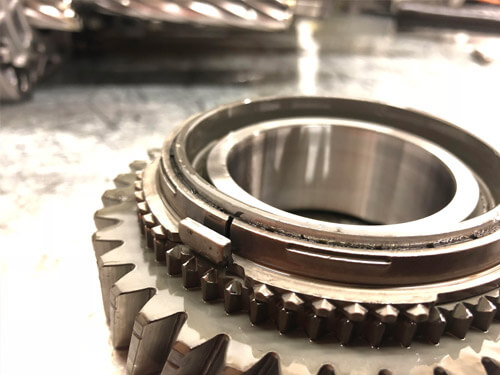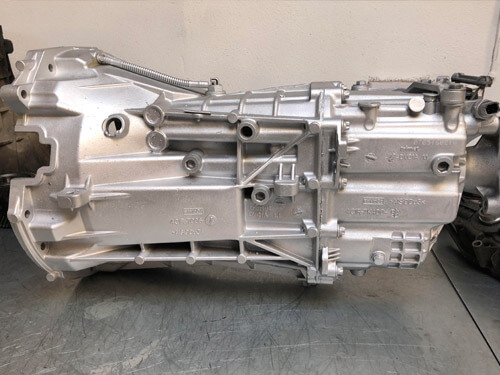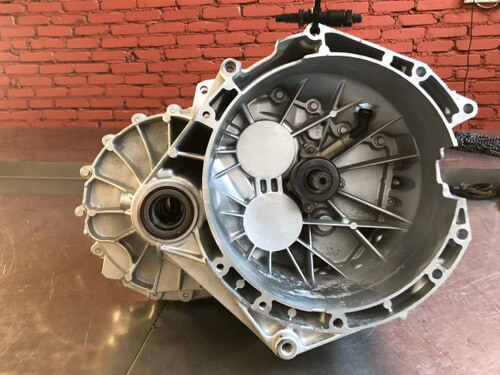 Common

faults of manual gearboxes

Manual gearboxes are known for their quality and durability, but like any part in a car, they can break down. The most common faults are:

worn synchronizers,
worn gears,
lubricating oil - manual gearboxes are lubricated with different oil than engines. Most manufacturers and services claim that gearbox oil does not need to be changed, but it should be done approximately every 40,000 kilometers. Filling the gearbox with inappropriate oil, not changing it, or its absence can have serious consequences.

Symptoms

of faults

difficult gear shifting - there can be many reasons, one of them being lack of oil or too thick oil,
grinding gears - e.g., worn synchronizers,
gears popping out - e.g., worn synchronizers,
shifter vibration - e.g., worn gearbox mounting cushions, push rods,
buzzing or whining noise from the gearbox - e.g., worn bearings or gears,
unpleasant knocking sounds,
oil leak.
Cost

of repairing a manual gearbox


The cost of repairing a manual gearbox, like automatic gearboxes, depends on the extent of the damage. Most of the costs can only be determined after dismantling it from the car. Thanks to accurate diagnosis, we are able to determine the extent of damage to the gearbox and how much the repair of the gearbox will cost.


A common mistake made by drivers is installing a used gearbox. In cases of design flaws originating during production, every gearbox will have the same problem. Therefore, installing a used gearbox may offer temporary cost savings until the same problem reappears.

If you are wondering what's happening with your gearbox and how much the quote, repair, or regeneration of gearboxes costs, don't wait, call us and describe your problem before it's too late. In our company, we are capable of repairing every manual gearbox.

As part of our services, we also offer gearbox regeneration, which includes repairing or replacing worn parts to restore optimal gearbox operation. Gearbox regeneration can be a good solution when manual gearbox repair is not possible or not cost-effective.

Additionally, it's important to pay attention to the need to change oil in manual gearboxes. Transmission oils are crucial for the proper functioning of the gearbox, so their proper use and replacement have a significant impact on the performance and lifespan of gearboxes.

In case of gearbox failure, do not delay visiting a service center, as postponement can lead to more serious damage and higher repair costs. Take advantage of our experience and professionalism – we will take care of your manual gearbox, so you can enjoy a trouble-free ride.

In our service, we offer a wide range of services related to manual gearboxes, such as:
Gearbox diagnostics - we use the latest diagnostic tools to precisely identify all problems related to manual gearboxes, allowing for quick and effective action.
Part replacement - we have access to a wide range of original spare parts, allowing for quick and reliable replacement of damaged components of manual gearboxes.
Servicing and maintenance - we offer comprehensive servicing of manual gearboxes, which includes checking transmission oils and monitoring the condition of gearbox components.
Technical advice - we provide advice on the proper use and maintenance of manual gearboxes, which helps extend their lifespan and avoid unnecessary failures.
Gearbox regeneration - as specialists in the field of manual gearboxes, we also offer professional gearbox regeneration, which can restore its optimal operation and extend its lifespan.
Warranty on repairs - all manual gearbox repairs performed in our service are covered by a warranty, giving our customers confidence that the service is performed with due care and professionalism.
Trust our experience and knowledge in the field of manual gearboxes. We ensure a comprehensive approach to each case and an individual approach to the needs of our clients. Working with us guarantees satisfaction and the trouble-free operation of your manual gearbox. Contact us today to learn more about our services and schedule a visit to our service center.